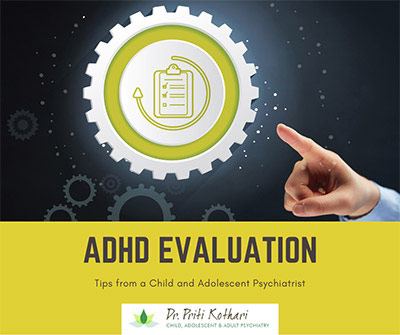 Have you been considering having your child tested for Attention Deficit Hyperactivity Disorder (ADHD)? Perhaps you've noticed behaviors that your child has that are different from his or her peers. Or maybe your child's teacher has reported his behaviors are preventing him from doing as well as he could in his schoolwork. If you are concerned that your child may have ADHD, a learning disability, autism, or other neurological condition, Dr. Priti Kothari can offer a few tips to help make the process of seeking a diagnosis less daunting.
Get recommendations- Different clinicians can be trained to make a determination if a child has ADHD or a different condition. Knowing whether to choose a child psychiatrist, pediatrician, neurologist, or another clinician can be a confusing task for parents. Ask your child's school and other parents for recommendations on whom they trust. Click here to read some of Dr. Kothari's reviews.
Do your homework- Find out what professional certification or academic degree the specialist has. A child psychiatrist can be an ideal choice as he or she is a medical doctor with a specialty in the thinking, acting, and behavior of children and adolescents. Dr. Kothari, MD is a board-certified child, adolescent, and adult psychiatrist with fellowship training from Johns Hopkins Medical Center.
Find out what your insurance covers- Everyone's insurance is different. It's up to you to know what your plan covers. Check your policy or call your insurer to find out. While Dr. Kothari does not accept insurance, documentation can be provided to you to submit to your insurer for reimbursement.
Make sure you (and your child) feel comfortable- Feeling comfortable with the specialist you choose is important. In order to be able to correctly diagnose your child, a specialist will need cooperation and honesty from both parent/caregiver and child. You should find a specialist you feel comfortable with and one you trust in order to provide the best course of diagnosis, treatment, and follow up for your child.
For parents, guardians, and caregivers in the Boca Raton, Palm Beach, Palm Beach Gardens, Delray Beach, and Parkland areas Dr. Kothari, MD offers both initial and follow up appointments for children, adolescents, and adults. Her areas of specialty include ADHD, anxiety, autism spectrum disorder, depression, learning disabilities and developmental delays, and sensory issues. To make an appointment, please call her office at (561) 483-0844. Read more information on ADHD here.