News
Doctors As Seen On TV Show Wake Up Call
Dr. Priti Kothari will talk about "ADHD Medication Basic Review" at the AD/HD Support Group Meeting on 28th Feb.
For more information: Contact the coordinator, Nicole @ 754-229-5716 or north-broward@chadd.net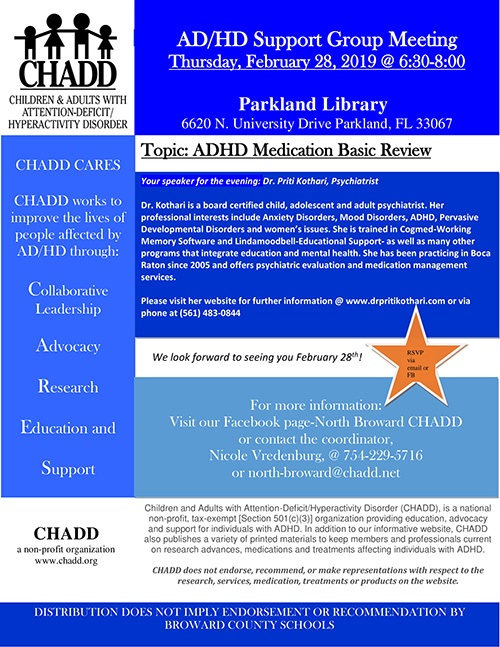 Dr Kothari was a speaker this year at yogathon's event and continues to encourage yoga as a tool for healing.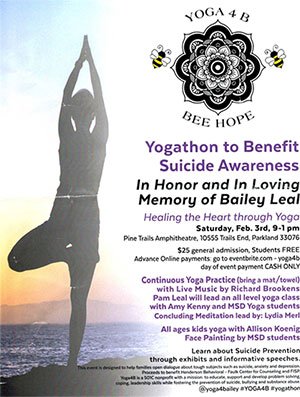 First Biomarker Evidence of DDT-Autism Link
NATIONAL BIRTH COHORT STUDY FINDS DDT METABOLITES IN THE BLOOD OF PREGNANT WOMEN ARE ASSOCIATED WITH ELEVATED ODDS OF AUTISM IN OFFSPRING
A study of more than 1 million pregnancies in Finland reports that elevated levels of a metabolite of the banned insecticide DDT in the blood of pregnant women are linked to increased risk for autism in the offspring. An international research team led by investigators at Columbia University's Mailman School of Public Health and the Department of Psychiatry published these results in the American Journal of Psychiatry. The study, conducted in collaboration with investigators at the University of Turku and the National Institute of Health and Welfare in Finland, is the first to connect an insecticide with risk for autism using maternal biomarkers of exposure.
As a community we continue to heal
Funeral after funeral, an emotional marathon for survivors of the Parkland school shooting
PARKLAND, Fla. — Under vacation-blue Florida skies, the young mourners have emerged from family SUVs and minivans at funeral after funeral, high school girls in black dresses and heels and teen boys in black shirts and pants.
Letters to the Editor Pilot Data Supporting Omega-3 Fatty Acids Supplementation in Medicated Children with Attention-Deficit/Hyperactivity Disorder and Deficits in Emotional Self-Regulation
Recent work has demonstrated that individuals with attention-deficit/hyperactivity disorder (ADHD) are at elevated risk for deficits in emotional self-regulation (DESR) (Surman et al. 2010). DESR traits include low frustration tolerance, impatience, quickness to anger, moodiness, and being easily (over)excited to emotiona lreactions(Barkley2010). Research also suggests that changes in DESR may not routinely follow changes in ADHD symptoms during treatment trials (Shaw et al. 2014).
How Your Teen's Phone Is Ruining Her Concentration
We know texting while driving has consequences, but what about texting when doing homework?
It's something almost all kids do, and most parents have also been known to check their text messages at their desk. If we're being honest, most of us have our cell phone within arm's reach when we're at work, and we will glance at it from time to time. When we're defending the practice we call it "multitasking." How bad could it really be?
CHADD of BOCARATON Educational Support for Parents of Children with ADHD
Dorothy F. Schmidt College of Arts and Letters
Through the great generosity of the Boca West Foundation, 100% of the proceeds of tickets sold by the Dorothy F. Schmidt College of Arts and Letters will benefit kids attending our Summer Arts Camps.
Take the pledge to remove stigma from mental illness and help patients and families get help, support and most important Hope!

MolP – Omega-3 FA, Inflammation, and Major Depressive Disorder

Source: Omega Research
One hundred fifty-five subjects with Diagnostic and Statistical Manual of Mental Disorders, 4th Edition (DSM-IV) MDD, a baseline 17-item Hamilton Depression Rating Scale (HAM-D-17) score ⩾15 and baseline biomarker data (interleukin (IL)-1ra, IL-6, high-sensitivity C-reactive protein (hs-CRP), leptin and adiponectin) were randomized between 18 May 2006 and 30 June 2011 to 8 weeks of double-blind treatment with eicosapentaenoic acid (EPA)-enriched n-3 1060 mg day-1, docosahexaenoic acid (DHA)-enriched n-3 900 mg day-1 or placebo
BipolarD – Bipolar Benefits with Increase n-3 and Decrease n-6 Dietary PUFA

Source: Omega Research
OBJECTIVES:
Omega (n)-3 and n-6 polyunsaturated fatty acids (PUFAs) are molecular modulators of neurotransmission and inflammation. We hypothesized that plasma concentrations of n-3 PUFAs would be lower and those of n-6 PUFAs higher in subjects with bipolar disorder (BD) compared to healthy controls (HCs), and would correlate with symptom severity in subjects with BD, and that effective treatment would correlate with increased n-3 but lower n-6 PUFA levels. Additionally, we explored clinical correlations and group differences in plasma levels of saturated and monounsaturated fatty acids.
CNSD – Omega-3 FAs, a Safer Intervention for Early-Onset Bipolar Disorder

Source: Omega Research
Bipolar disorder is a chronic and typically recurring illness with significant psychosocial morbidity. Although the aetiological factors that contribute to the onset of mania, and by definition bipolar I disorder, are poorly understood, it most commonly occurs during the adolescent period.
Putative risk factors for developing bipolar disorder include having a first-degree relative with a mood disorder, physical/sexual abuse and other psychosocial stressors, substance use disorders, psychostimulant and antidepressant medication exposure and omega-3 fatty acid deficiency.
Link between ADHD and academic expectations identified by University of Miami researchers
Source: Medical News Today
The education system in the United States has changed dramatically since the 1970′s. We have seen a rise in time spent on homework, a significant increase in the percentage of children enrolled in full day programs, and a rise in the time spent on teaching preschool aged children their numbers and letters. A new study out of the University of Miami suggests a correlation between the prevalence of attention deficit hyperactivity disorder (ADHD) and increasing academic demands on young children.
Omega-3 Fatty Acids Studied in Autism
Source: Cpmedical
A study epublished in March 2015 reports that omega-3 fatty acid supplementation benefits symptoms in subjects with autism spectrum disorder (ASD). The Centers for Disease Control and Prevention (CDC) report that the prevalence of autism in the U.S. increased by 119.4% from 2000 (1 in 150 births) to 2010 (1 in 68 births). Autism is the fastest-growing developmental disability, increasing by 6% to 15% each year from 2002 to 2010.
Great Omega 3 Library
Exercising the Mind to Treat Attention Deficits
Source: NY Times
Which will it be – the berries or the chocolate dessert? Homework or the Xbox? Finish that memo, or roam Facebook?
Such quotidian decisions test a mental ability called cognitive control, the capacity to maintain focus on an important choice while ignoring other impulses. Poor planning, wandering attention and trouble inhibiting impulses all signify lapses in cognitive control. Now a growing stream of research suggests that strengthening this mental muscle, usually with exercises in so – called mindfulness, may help children and adults cope with attention deficit hyperactivity disorder and its adult equivalent, attention deficit disorder.
India to Cover Weight-Loss Surgery for MPs
Source: The Wall Street Journal
As Indian waistlines expand, the Ministry of Health has decided to tackle the problem from the top and pay for some or all of the cost for weight-loss surgery for high-ranking government officials.
Tackling abdominal obesity with exercise and nutrition
Source: Medical News Today
Lifestyle programs focused on high-intensity interval training combined with nutritional counselling on the Mediterranean diet have shown dramatic results for improving the heart health of people with abdominal obesity, finds a study released at the Canadian Cardiovascular Congress.
"Each of these lifestyle interventions alone is known to have an impact, but no one has studied them together in a longer term," says Dr. Mathieu Gayda, one of the study's authors and an exercise physiologist at the Montreal Heart Institute. "Our results show that the combination of the two interventions supersized the benefits to heart health."